Curriculum
Our developmentally appropriate curriculum provides for all areas of a child's development – social, emotional, cognitive, and physical– through an integrated and interactive approach to learning. We believe that children learn best through self- discovery (touching, feeling, experimenting, and exploring!). Our program aligns to the Ohio Early Learning and Development Standards and Creative Curriculum 5.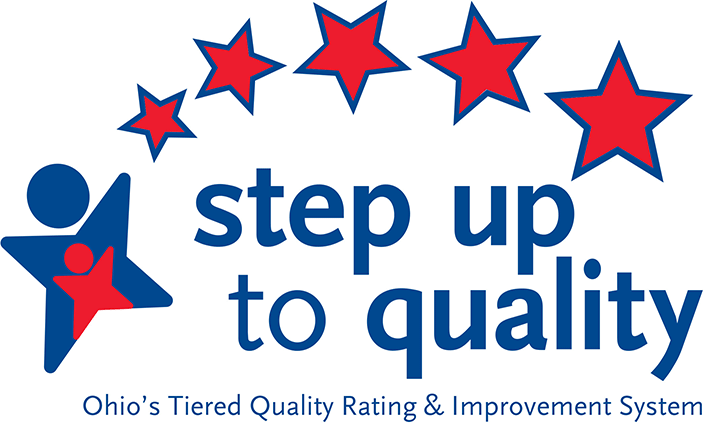 A Child's Garden is a Step Up To Quality 5-star rated preschool in the state of Ohio.
Check out our About Page to find out more information about Step Up to Quality and what that means for you and your child.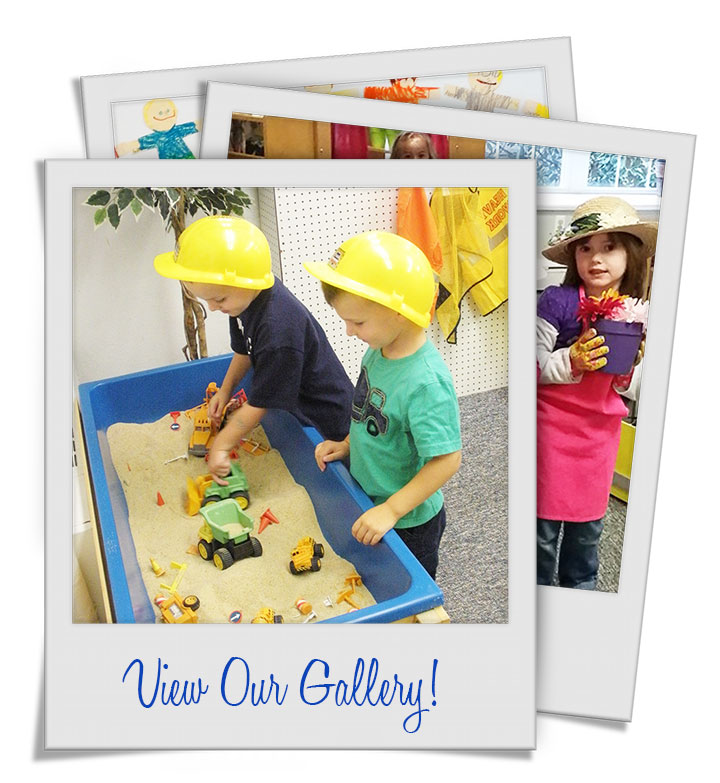 Homerooms
Each child is assigned to a homeroom where they will focus on literacy. Each teacher will align the curriculum to a book of the day. In homeroom, the child will experience the Writing Center, the Art Center, the Reading Center, and Group Time, as well as Free-Choice Time.
All homerooms and common rooms are fully carpeted and air-conditioned!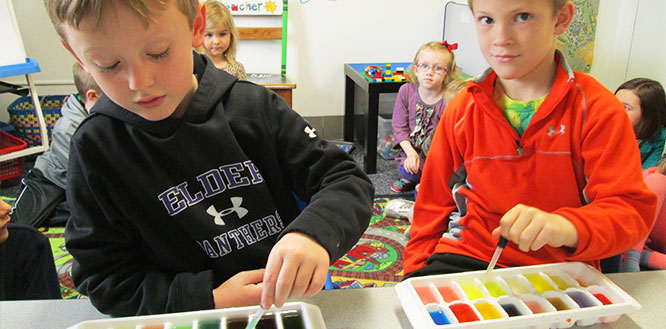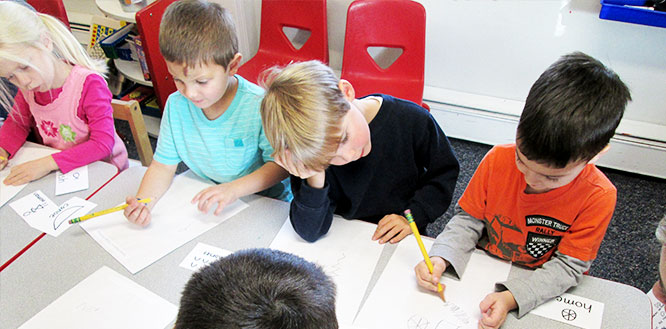 Common Rooms
The common rooms are designed to enrich the curriculum of the homerooms. There are four common rooms… Dramatic Play/Science, Dramatic Play/Theme of the month, Sensory, and Music and Movement Room. Each class will rotate to two of these choices a day and alternate weekly.
Dramatic Play
Dramatic Play, or Pretend Play, is a time children take on roles and recreate real-life experiences. They use props and make-believe about a wide variety of topics. This is also where social skills are developed. Each room is divided…one side Dramatic Play & the other side either Thematic or Math/Science. All activities change monthly.
Math & Science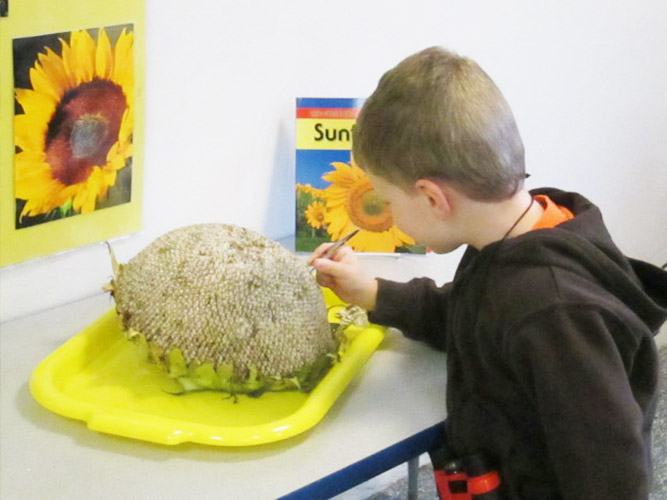 "Why does the cork float and not the rock?" , "How does that seed grow into that pumpkin?" …"How high can I build that tower?" In the Math and Science Rooms, children learn through hands-on activities and interest centers which are designed to encourage exploration and build mathematical and scientific thinking skills.
Music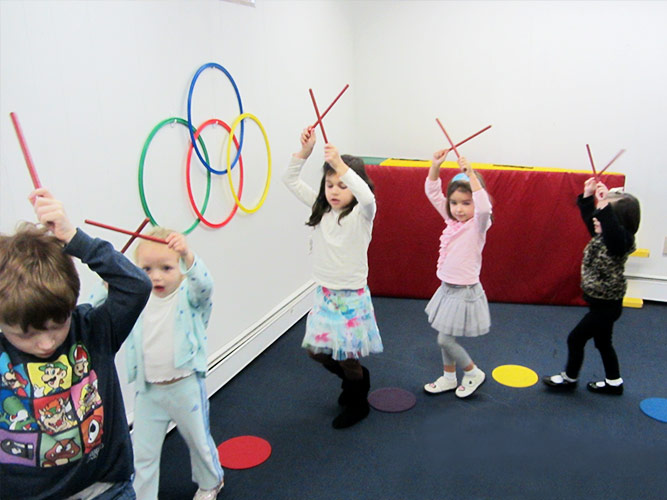 Welcome to the music room. Music ignites all areas of child development: intellectual, social and emotional, motor, language, and literacy. It helps the body and the mind work together. Exposing children to music during early development helps to develop sound discrimination, rhythm, body management and listening skills.
Sensory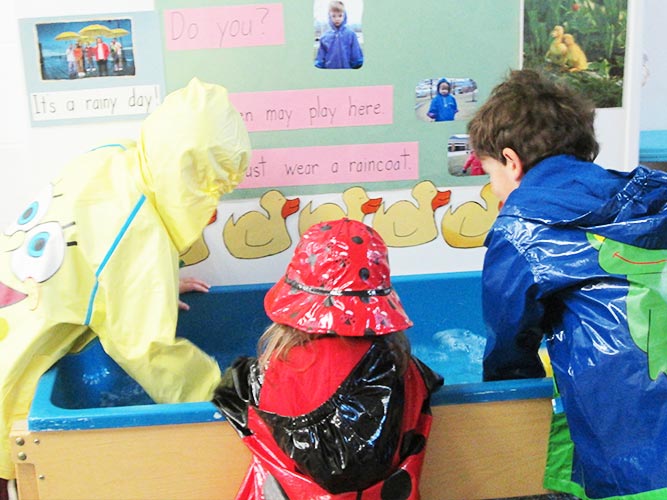 Welcome to the sensory room. Sensory activities provide a natural setting for learning using all of the senses…touch, sight, smell, hearing and taste. Here your child will participate in activities to stimulate these areas. Activites include water tables, dry pour tables, light table activities, sensory bins with objects of different textures.
Movement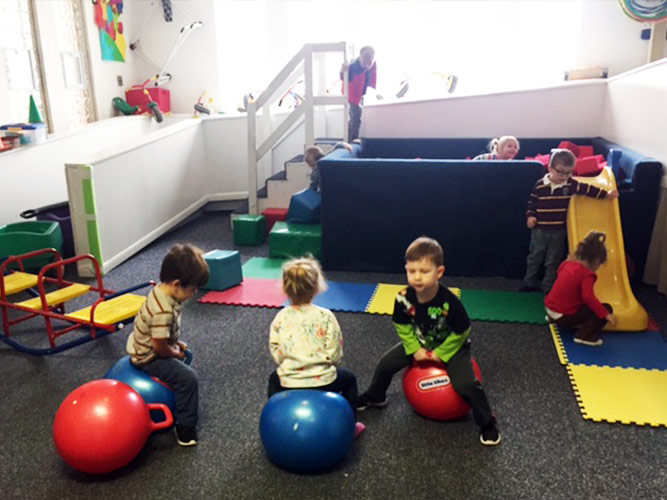 There are a vast number of benefits for children who experience increased movement and physical activity in early childhood. In addition to creating healthy habits and fostering a lifelong commitment to physical activity, children develop better social and motor skill development, strength, self-confidence, concentration, and coordination skills.
Outside
Outside is the very best place for children to be free and have fun. Our children are encouraged to move in our natural play area where every child has a tricycle to bike the bike path, the tools and trucks to dig and move in our gravel pit, the rakes and wheelbarrows to rake leaves and build leaf piles and the grass to just run and play!!
Teachers
A Child's Garden has outstanding and very experienced teachers and staff. Our teachers are our greatest assets!

In-Class Field Trips and Special Visits
No field trip liability – field trips, special visits and activities are brought to the preschool!!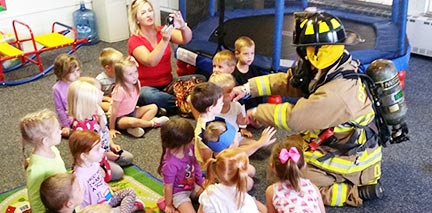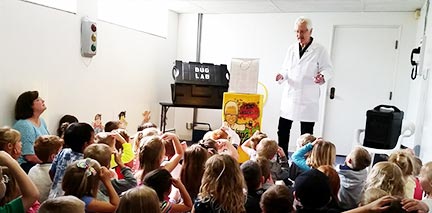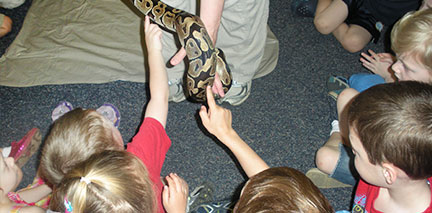 Parent Involvement
It's important for our parents to be involved in their child's school. There are a number of ways they can be involved...
Open Door Policy
Parents as Partners: Parent Group that organizes special events such as Teacher Appreciation Week, The Twelve Days of Christmas, etc.
Special Parent Events: Donuts With Dad, Mother's Tea Day, and more!
Classroom Volunteer Opportunities